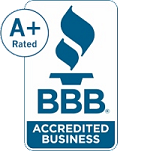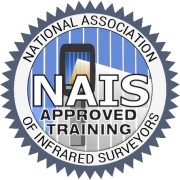 National Certifying Body for Infrared Professionals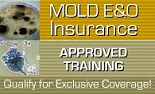 Get Mold Certified Today

My Account

800-679-4381

Enroll
PROFESSIONAL MOLD INSPECTION INSTITUTE
Mold Inspector / Mold Remediator Training and Certification
Infrared Moisture Survey Course
Length: 24-Hours (Online) Fees: Sale $449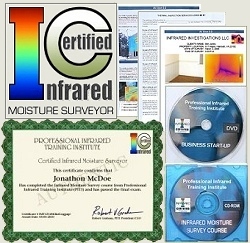 This course is designed to help you expand your thermal testing business to include infrared moisture surveys. Providing this service will help your clients understand the source and extent of hidden water damage and moisture that could lead to significant structural damage or microbial growth. A professional infrared moisture survey report can be used to help guide repair efforts, to aid those writing mold remediation protocols, or to document expensive water damage claims for insurance policies.

This course will teach you the use and operation of infrared cameras, how to conduct proper thermal surveys, the process for investigating and positively identifying moisture using infrared, and how to prepare and deliver a professional infrared moisture survey report. A previous Level 1 Thermographer certification is recommended, but not required. You do not need an infrared camera to take this course.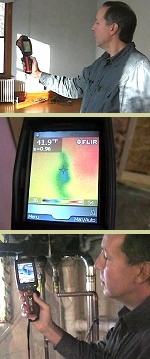 This infrared moisture survey course provides outstanding infrared training for an excellent value. Written in easy-to-understand language, the thermal training is accompanied by many examples, videos, and practice exercises to help you become familiar with the concepts.
Differentiate between moisture and other thermal anomalies that look similar
Trace hidden moisture trails to their source and use thermal capacitance differences to survey flat roofs
Avoid false temperature change that can result from differences in emissivity, reflectivity, transmissivity, and target surface geometry
Ways to improve the quality of a thermal image by understanding resolution, palette, range, and image contrast
Create infrared moisture survey reports that document conditions, make recommendations, and use post-processed radiometric images
As you complete each lesson, you will use interactive flash cards and take practice quizzes that will test and verify your knowledge simultaneously through instant online feedback. Your computer records the results so you can easily track your progress.

The course includes a quick-start DVD that will help guide you in starting a successful infrared business. Other benefits include infrared moisture survey report templates, a pre-survey agreement, and our toll free support to help you get started. When you finish the course and pass the final exam, you will be a Certified Infrared Moisture Surveyor and will possess the knowledge and skills needed to start a full or part-time business, or expand your existing infrared business.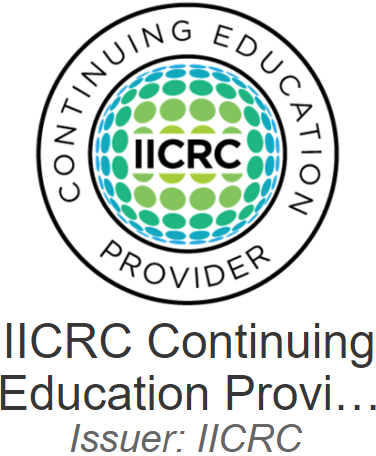 Continuing education credits. This course qualifies for (14) Continuing Education Units from the Institute of Inspection Cleaning and Restoration Certification (IICRC). Certified Infrared Moisture Survey Course (CRMI) (#2322) for infrared moisture surveys.
Disclaimer: The IICRC does not endorse any educational provider, product, offering, or service. The Institute expressly disclaims responsibility or warranty for third-party publications, products, or instruction. The approved status does not award IICRC Certification.


Infrared Moisture Survey Lessons
1. Introduction
2. IR Camera Operation
3. Conducting Thermal Surveys
4. Moisture Investigation
5. Moisture Survey Reports
6. Standards and Ethics
7. Final Exam
Glossary of Terms
Facts to Remember
Resource Documents


What You Will Master

Adjusting and using a thermal imaging IR camera


Preparing a site for an infrared moisture survey


Moving an area into transition and establishing Delta-T


Defining the scope and limitations of the survey


Methods for conducting a thermal moisture survey


And much more!


Package Includes:
Infrared Moisture Survey Online Course and optional back-up CD, Infrared Infrared Business Start-up DVD, Online Flashcards & Testing, Moisture Survey Template, Infrared Moisture Surveyor Certification, Toll Free Student Support

Free Bonuses: $399 Infrared Inspection Report Creator, $149 InspectHost Business Website, $195 1-year National Association of Infrared Surveyors Membership



30-Day Money-Back Guarantee



The only mold inspection and mold remediation training with a satisfaction guarantee!

©Professional Mold Inspection Institute (PMII). All rights reserved.