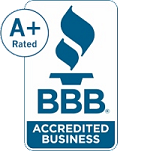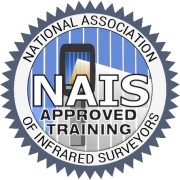 National Certifying Body for Infrared Professionals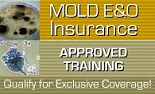 Get Mold Certified Today

My Account

800-679-4381

Enroll
PROFESSIONAL MOLD INSPECTION INSTITUTE
Mold Inspector / Mold Remediator Training and Certification
Level 1 Infrared Building Surveyor Course
Length: 100-Hours (Online) Fees: Sale $1,245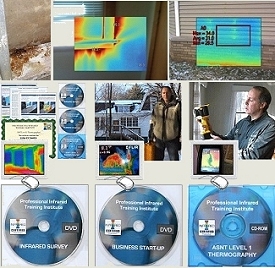 This in-depth course integrates Infrared Level 1 Certification with building envelope moisture and energy loss surveys. This course is recommended for home inspectors, energy auditors and others working in the building trades who want to enter the infrared thermography field. No experience in thermography is necessary, and no infrared camera is required.

The course begins with the fundamentals of physics and infrared energy in easy to understand language, and meets all Level I ANSI/ASNT CP-105 and CP-189 recommendations for thermal/infrared testing, as established by the American Society for Non-Destructive Testing (ASNT).

This course is designed to help you start or expand your current business to include infrared surveys for energy loss and excess moisture in buildings. Providing these services will help your clients understand the sources and severity of energy loss and water intrusion in homes and other buildings.
Energy loss results in higher energy bills, personal discomfort, and potential structural and air quality problems. A professional infrared energy loss survey report can be used to help remediate insulation problems, seal air leaks, or prove damages due to poor workmanship or improper installation when the building was constructed.

Moisture trapped behind walls can lead to microbial growth, unpleasant odors, structural deterioration and possible health problems for occupants. A professional infrared moisture survey report can help your client understand the source and extent of hidden water damage and high moisture to help guide repair efforts, to aid those writing mold remediation protocols, or to document water damage claims for insurance reasons.
This course will teach you the use and operation of infrared cameras, how to conduct proper thermal surveys, and how to prepare and deliver a professional infrared energy loss and/or moisture survey report. You will learn the process for investigating and positively identifying many different types of energy loss including insulation deficiencies, bypasses, air infiltration, thermal bridging, and HVAC system problems. You will aso learn how to locate and positively identify water infiltration problems in buildings using an infrared camera.

After completing the course, you will receive your ASNT-compliant Level I Thermographer Certification, Level 1 Building Surveyor, Moisture Surveyor, and Energy Surveyor Certifications. Furthermore, you will possess the skills and knowledge necessary to begin your own infrared thermography business or become a significant contributor for an established company. You do not need an infrared camera to take this course.

Prerequisites: None.

This infrared course can be taken entirely online and provides outstanding infrared training for an excellent value. Written in easy-to-understand language, the thermal training is accompanied by many examples, videos, and practice exercises to help you become familiar with the concepts. You will learn how to use an infrared camera for a variety of diagnostic, monitoring, and predictive maintenance applications in commercial, industrial and building environments. The training is accompanied by many examples to help you become familiar with the concepts.
Collect quality data, accurate temperature readings, and account for measurement effects such as distance and emissivity using infrared cameras.
Interpret thermograms and make informed decisions using heat transfer concepts to analyze thermal images
Avoid the beginner mistakes that can damage your business
Distinguish between hot spots and reflections, direct vs. indirect readings and qualitative vs. quantitative thermography.
Challenging examples that simulate real-world infrared applications.
Differentiate between missing or inadequate insulation versus problems with air infiltration and moisture.
How to locate and seal many thermal bypasses that siphon energy from buildings during hot and cold seasons.
Trace hidden moisture trails to their source and use thermal capacitance differences to survey flat roofs
Create infrared energy loss and moisture survey reports that document conditions, make recommendations, and use post-processed radiometric images
As you complete each lesson, you will use interactive flash cards and take practice quizzes that will test and verify your knowledge simultaneously through instant online feedback. Your computer records the results so you can easily track your progress.

The course includes a DVD that takes you through a complete infrared property survey, and another DVD that contains a quick-start guide for your infrared business. Other benefits include infrared survey report templates, pre-survey agreements, and our toll free support to help you get started. When you finish the course and pass the final exam, you will be a Certified ASNT Level I Thermographer and will possess the knowledge and skills needed to start a full or part-time infrared business.


Infrared Building Thermographer
1. Physics Basics
2. Heat Transfer
3. Radiosity Concepts
4. Infrared Devices
5. IR Camera Operation
6. Infrared Applications
7. Conducting IR Surveys
8. Insulation Efficiency
9. Air Infiltration
10. Energy Loss Reports
11. Moisture Investigation
12. Moisture Survey Reports
13. Standards and Ethics
14. Final Exam
Glossary of Terms
Facts to Remember
Resource Documents


What You Will Master

An understanding of how infrared radiation works


How to accurately measure surface temperature


Adjusting and using a thermal imaging IR camera


Avoiding the pitfalls that affect new thermographers


Preparing a site for an infrared survey


Moving an area into transition and establishing Delta-T


Defining the scope and limitations of the survey


Methods for conducting a thermal energy loss survey


Methods for conducting a thermal moisture survey


And much more!


Package Includes:
Level 1 Infrared Building Surveyor Online Course and optional back-up materials on USB stick, Online Course Manual, Infrared Survey Online DVD, Infrared Business Start-up Online DVD, Report Templates, Toll Free Student Support, ASNT-compliant Level 1 Infrared Thermographer, Level 1 Building Surveyor, Moisture Surveyor, and Energy Surveyor Certifications.

Free Bonuses: $399 Infrared Inspection Report Creator, $149 InspectHost Business Website, $195 1-year National Association of Infrared Surveyors Membership



30-Day Money-Back Guarantee



The only mold inspection and mold remediation training with a satisfaction guarantee!

©Professional Mold Inspection Institute (PMII). All rights reserved.