Approved CE Training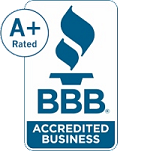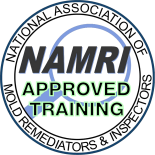 National Certifying Body for Mold Professionals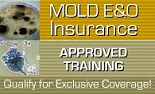 Get Mold Certified Today


My Account

Call 800-679-4381

Order/Enroll

PROFESSIONAL MOLD INSPECTION INSTITUTE

Mold Inspection and Remediation Classroom Course
Price: $1,995 Length: 3-Days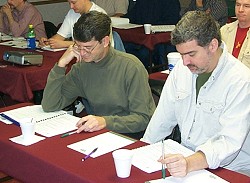 PMII's live classroom course at our training center in Madison, South Dakota, combines the online courses with 24 hours of live classroom instruction to provide a comprehensive training experience that includes all three nationally-recognized PMII certifications:
Certified Residential Mold Inspector (CRMI)
Certified Mold Remediator (CMR)
Certified Commercial Mold Inspector (CCMI)
The advantage of our classroom training is that students are provided with PMII's interactive online distance training in advance, which helps students prepare for the live training. Prepping ahead of time allows students to ask hard questions in class and not be bogged down learning the introductory material that is easier to learn at home. Instead, students can spend more classroom time learning detailed information, report writing, and hands-on sampling techniques.

Important: Any PMII student who has previously enrolled in our distance training can attend the live class for the difference in enrollment fees, which allows you to sign up for this additional training at a later time with no tuition penalty.

Students can interact with PMII computers provided during the training to complete assignments, testing, and inspection reports, or students can bring their own mobile devices. No other school offers our style of hybrid classroom that allows each student to progress at his or her own pace so that no one is left behind.




IICRC Approval: 2 CECs in the cleaning/restoration, inspection category, or master category.
What You Will Master

Mold identification, prevention, and control


National Standards of Practice for mold inspections


How and where to find mold in the home


The Code of Ethics for mold inspectors


How to complete residential and commercial mold inspection reports


How to prepare a mold remediation proposal



Start Date TBD

States

Length

Fees

Bi-monthly,
Mar. - Dec.

All Except FL, NY, TX

3-Days

$1,995.00
Prep Package Includes:
Online Mold Inspector, Commercial Mold, Mold Remediation and Mold Protocols Courses with optional back-up CDs, Inspection Documents and Report/Proposal Templates, Student Manual, Course DVD (online), EPA Guides, Toll Free Student Support.
Free Bonuses:
$399 Mold Inspection and Mold Remediation Report Creator, $149 InspectHost Business Website, $149 1-year NAMRI Membership



30-Day Money-Back Guarantee



The only mold inspection and mold remediation training with a satisfaction guarantee!

© Copyright PMII Mold Training. All Rights Reserved.