Course Lessons


Common Terminology


Understanding Mold


Effects on Humans


Effects on Homes


Detection Equipment


Mold Sampling


Standards of Practice


Grounds Inspection


Exterior Inspection


Structure Inspection


Plumbing Inspection


Interior Inspection


HVAC Inspection


Mold Reporting


Mold Treatment


Final Exam


Course Resources


Control Panel


Online DVD


Documents


Support Forum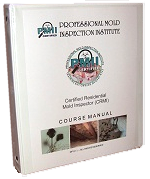 The student manual is an optional offline workbook that goes with the course for field use. It contains a copy of all learning objectives that must be completed and is designed to hold all your written answers and notes.

Inside you will find printed copies of all the required inspection documents for practice activities including checklists and report templates.

The manual also contains information about how to take the course, along with our school policies. If you need to print additional documents, the entire manual is availablefor download, allowing you to print and make copies of any of the materials.