Course Lessons


Common Terminology


Understanding Mold


Effects on Humans


Effects on Homes


Detection Equipment


Mold Sampling


Standards of Practice


Grounds Inspection


Exterior Inspection


Structure Inspection


Plumbing Inspection


Interior Inspection


HVAC Inspection


Mold Reporting


Mold Treatment


Final Exam


Course Resources


Control Panel


Online DVD


Documents


Support Forum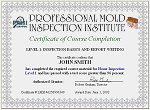 3 Mold Certifications
When you have completed each course and passed the final computer exam, you will receive your certificate. Just go to your Control Panel and click on your Certifcate, which will generate your signed and numbered certificate instantly. Certificates can be printed out instantly.

Advantages of Certification
Your certification is an important credential that confirms your status as a mold professional. Graduates can display the PMII logo on your marketing materials. You also qualify for a free year of membership in NAMRI, the National Association of Mold Remediators and Inspectors.